In Alaska, Teen Girls Take Aim to Boost Self Esteem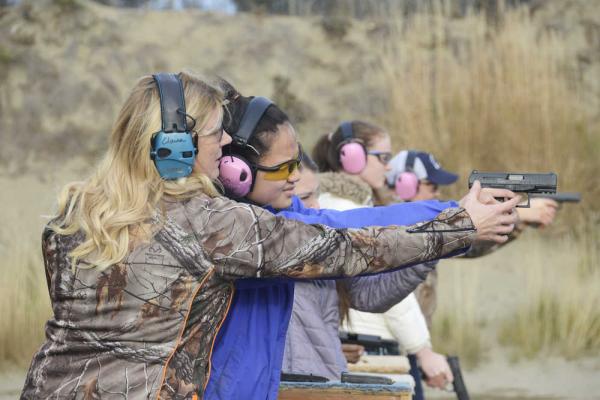 In 2009, Alaskan Elaina Spraker decided to start a gun training course for young women interested in learning about firearms, gun safety and how to shoot. Spraker said the idea came to her when she asked her then-teenage son if his female friends enjoyed going to the gun range as much as he and his friends did. Her son's response caught her by surprise. He said most of the girls stayed back.
Spraker's firearms training program, called Teens on Target, is now supported by Friends of the National Rifle Association, Safari Club International and the Snowshoe Gun Club. The eight week long course is open to young women ages 13 to 17 and takes them through the basics of shooting handguns, shotguns and rifles. Participants must pay a modest fee of $35, but all guns and ammo are donated by Spraker and her husband.
"What we discovered in the years from then until now, is an amazing thing that has happened with these women is just the strength and empowerment and what it does to their self esteem," Spraker said.
In addition to learning the basics of shooting, Spraker also teaches female participants how to properly disassemble and clean a firearm, and stresses the importance of renting and firing a gun before purchasing it.
Although the program was originally designed to be a one-off course, Spraker said she has found it works best when girls join the program at a younger age and continue to come back year-after-year until they graduate.
"I joined this class mainly because I've grown up around firearms, because my parents both shoot," said 14-year-old Faith Glassmaker, a program veteran. "I love shooting, so I think it's cool that we get to come here every week and just shoot as much as we want."
You go, girls!
Source: Beth Baumann, BearingArms.com, November 1, 2016