ADULT / PEDIATRIC CPR AND FIRST AID

Invictus Training Center

921 S Nevada Highway 160 #404 Pahrump
MAP
According to the Occupational Safety and Health Administration (OSHA) , approximately 4 million injuries and illnesses occur annually in the workplace and nearly 80 percent of sudden cardiac arrests occur outside the hospital.

We teach students critical skills needed to respond to and manage a first aid, choking or sudden cardiac arrest emergency in the first few minutes until emergency medical service (EMS) arrives. In this course, students learn skills such as how to treat bleeding, sprains, broken bones, shock and other first aid emergencies.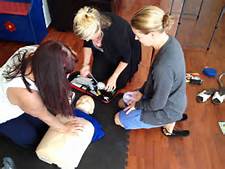 This course also teaches adult, child and infant CPR and AED use.

Upon successful completion of the course, including a first aid, CPR and AED skills test, students receive an ECSI First Aid CPR AED course completion card, valid for 2 years.

This course is for anyone with limited or no medical training and for those who need a course completion card in First Aid, CPR and AED use to meet job,regulatory or other requirements.

Cost — $65 includes two year certification card.

If you would prefer, we will teach this class at your location, business or school. Call 702-524-2195 to schedule.

Training is currently available in a blended learning format.

Blended learning combines self paced online lessons with a shorter classroom segment for the "hands on" review and practice of the required skills.

When you enroll in Blended Learning, you will receive access instructions for the online segment. You can log in and complete that segment at your own pace (within a week or so). Once you successfully complete the segment, you'll receive a completion certificate which you then brings to the hands on portion in our classroom.

REGISTER / PAY

The hands-on portion of this class is on Tuesday afternoons or Saturdays. To schedule your class please call us at 702-524-2195.