NEVADA CCW CLASS

and Renewals (Pahrump)

If you would prefer to pay day of class- please submit form at the bottom or call our office to register.

702-524-2195

Required equipment: (for both CCW and renewal class)

Handgun with at least two magazines or speed

loaders (more is better)

Dominant side holster that completely covers

the trigger guard (inside the waistband is fine)

Eye and ear protection

A brimmed hat

A sack lunch (if all day class) You can eat in the

classroom

Ammunition: 50 rounds of ammunition

This course begins by introducing the fundamental skills of handgun use,

including safe handling and storage, loading and unloading, basic

marksmanship skills, presentation from the holster, emergency reloads and malfunction clearance. This class will satisfy the specific training

requirements for the Nevada Concealed Carry permit application.

Topics discussed will include justifiable use of deadly force, threat management and de-escalation strategies, home security planning and Nevada firearm, concealed weapon and use of force laws.

(Utah CCW training requirements can also be completed

with an additional lecture block for an additional $30).

Nevada CCW course: $95

Nevada and Utah CCW course: $125

NV Renewal only course: $55

HR218: $25

PERMIT RENEWAL

Prerequisite: CCW current permit

Nevada requires live fire qualification with one handgun of any type or caliber.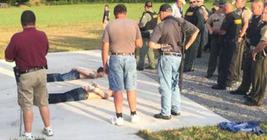 Nevada is a 'shall issue' state meaning that if a

person with a clean criminal history

successfully completes the approved

classroom training and appropriate firearms

qualification, the Sheriff will issue a permit. All

NV concealed firearms permits are valid for a

period of five years from the date of issue.

Permit renewal requires a five hour refresher

class, a shooting re-qualification and

application to the Sheriff for the renewal.

ALL CCW (all day) CLASSES BEGIN IN OUR CLASSROOM —

8:00 a.m. 921 S Nevada Highway 160 #404

(next door to Master at Arms)
MAP
If you are renewing only, please be at the range at 11:30 a.m.

(range) Gravel Pit — Wheeler Pass Road — 1.2 miles SE of Highway 160

Please submit this form if you would like to register for a class and pay day of class.

If you don't receive a confirmation email within a day or two, please check your spam box.

INVICTUS PERSONAL PROTECTION

will appear on your credit card statement.

NEED TO RENEW YOUR UTAH PERMIT?